Welcome to Summer 2019 in SF! It's a hot one, and sometimes a trip to Baker or Ocean Beach isn't enough. Summer is the perfect time to grab some buds (pun intended), escape the city and find some solitude.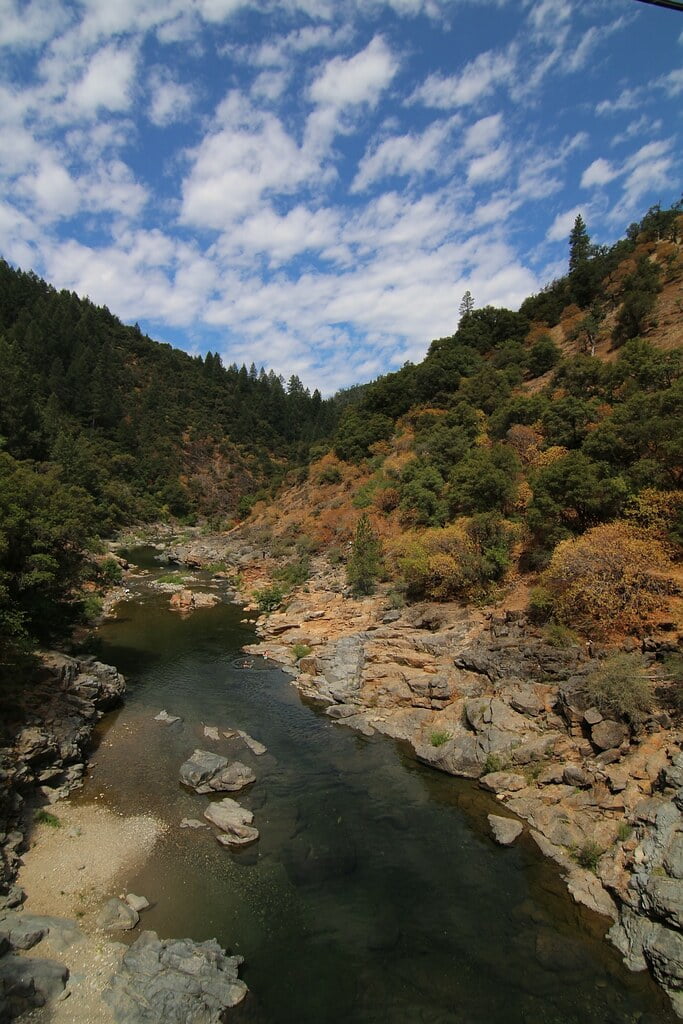 Edward's Crossing on the Yuba River, Nevada City
Crystal clear waters and sandy beaches perched beneath sugar pines await you at Edward's Crossing on the Yuba River. Edward's crossing is at the Yuba River State Park in Nevada City, and is popular for people that want some privacy and enjoy swimming under shaded areas. Yuba River is an excellent place to explore, and has tons of swimming holes and beaches all along the river's edge. It's also a great place for a trail run or a short hike, so there's no shortage of outdoors activities once you're there. Just be careful, the river current is quick so make sure not to wander too far in!
Half Moon Bay Beach, Half Moon Bay
Half Moon Bay Beach is four miles of broad, sandy beaches that invites visitors to walk around and enjoy the picturesque setting, or take a load off to sunbathe in peace. Since Half Moon Bay Beach is a state beach, there are plenty of things to do beyond just chillin' on the beach. HMB offers camping, fishing, hiking, and has plenty of places for a secluded, beachside picnic.
If you're feeling like hiking, Half Moon Bay Beach connects to Poplar Beach, which is just south and a popular spot for dogs, and sometimes even horseback riders.
Riverfront Regional Park
Riverfront Regional Park is one of Sonoma County's best parks, and offers visitors a chance to explore a variety of beaches and trails on their getaway. Riverfront offers outdoor pop-up yoga classes a few times per month that can take your relaxation to the next level. The park is home to numerous avian species, which has made it a popular spot for bird watching, and features miles of hiking and horseback trails to encourage you to explore the beauty of Sonoma County.
Pinnacle Gulch, Bodega Bay
If you enjoy tide pools, distinctive rock formations, and getting away from people, then Pinnacle Gulch at Bodega Bay is the beach for you. Pinnacle is quiet, and features a variety of wild plant growth like cypress, willows, coastal scrub, berries and wildflowers. The few people that you may encounter at Pinnacle will likely be enjoying a quiet walk on the beach, bird watching, or shore fishing. Pinnacle is open from sunrise to sunset, and connects to Shorttail Gulch and Doran Beach, giving you plenty of options to hike and explore while you're there.
Clear Lake State Park, Lake County California
If you want sandy, freshwater shores and a getaway full of history, then Clear Lake State Park is the place for you. Clear Lake is California's largest freshwater lake, and is rich in Native American and settler history. The Visitor Center at Clear Lake State Park features extensive history displays, and has an awesome aquarium that shows off some of the fish that inhabit the lake. The lake is surrounded by beaches, and there are numerous resorts along the coast that give visitors the opportunity to personalize their experience. Clear Lake is a popular place to fish, or enjoy any number of activities on the water like boating, water-skiing, and swimming.
Our Favorite Cannabis Beach Pairings
A trip to the beach would be incomplete without some of our favorite cannabis treats. Each of these products gives you a different way to enjoy THC, and make the most out of your oasis away from the city.
Lagunitas Hi-Fi Hops is one of our favorite sparkling beverages, and is a great way to enjoy THC on a warm summer's day. This IPA-inspired sparkling beverage is made using everything Lagunitas knows about hops — but with zero alcohol, zero calories, and zero carbs. It's infused with THC from the finest, sun-grown cannabis at AbsoluteXtracts, and is an excellent way to cool down with THC.
Toast 2:1 Sativa/CBD Pre-rolls are mellow, daytime pre-rolls that are great for a relaxing day at the beach. Each pre-roll is equivalent in strength and effect to your favorite cocktail, and is made from a hemp paper tube and uniquely designed high-flow filter to level the burn.
OM Edibles 1:1 Melange Gummies: An assortment of Red Raspberry, White Peach, Sour Apple and Blood Orange. There is something for everyone in each juicy Melange pack! Also available in THC and CBD. Gluten-Free and Vegan so no friends left behind!
Make sure not to consume and drive! We recommend having a sober driver, or make sure to wait until your high has faded to hit the road.
Visit Mission Cannabis Club
Before heading out to escape the heat of San Francisco, visit Mission Cannabis Club. Our budtenders are knowledgeable resources for our customers, and we stock a diverse array of the finest cannabis products available. We'd be happy to discuss our favorite cannabis beach pairings, and give you some insight on our favorite local spots to cool down this summer.